New Practice Members at Grace Family Chiropractic
Welcome to our practice! We're so happy that you chose our office to take the first step towards better health and wellbeing. Our goal is to make your first visit to our office stress-free, and leave you feeling excited and hopeful for your health future!
Our online forms contain important information that we ask that you complete and email back to us before your initial visit. This allows us to review the information ahead of time so that we can be optimally prepared to serve you when you arrive. This also allows us to stick to our schedule so that we can be respectful of your time and serve you in a timely manner. Please wear comfortable loose fitting clothing when you come to our office.
ONLINE FORMS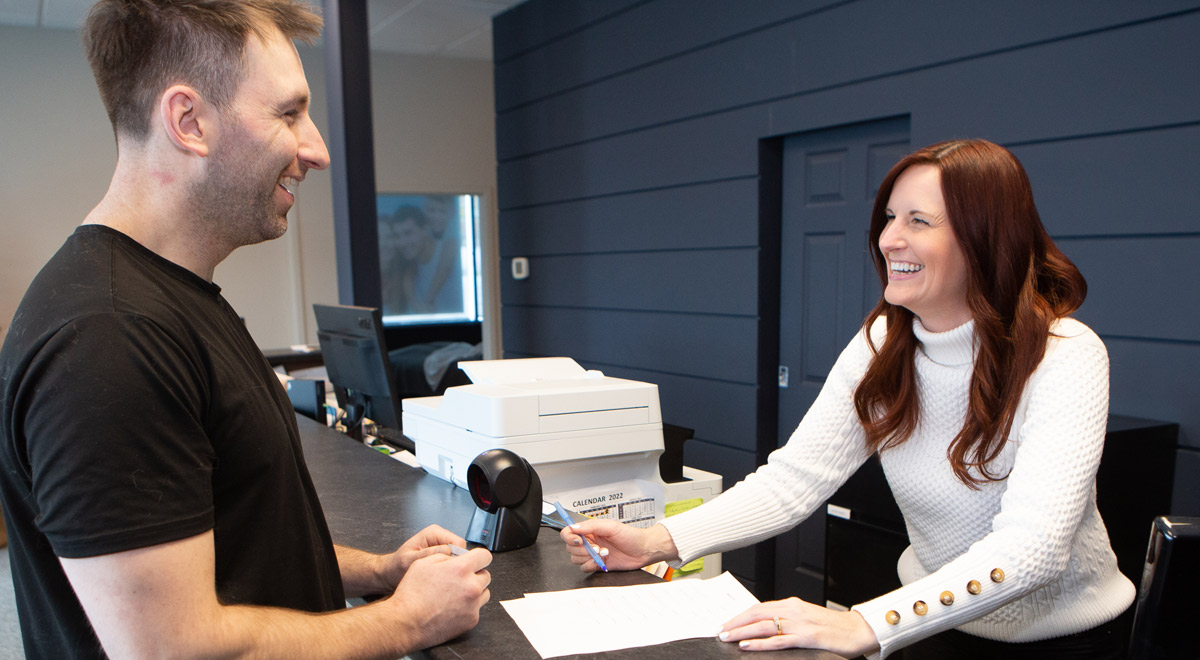 The Initial Consultation
On the first visit, which we call the health discovery, we will review your health history with you to figure out what the problem is and what might have caused it. Our doctors do a full chiropractic examination, including a full-body postural assessment, range of motion, orthopaedic, and neurological testing, as well as a hands-on exam where the doctor carefully feels each segment of your spine to locate areas of subluxation.
After your physical exam, we may take x-rays of your spine to confirm the findings and help determine how long it will take to fix the problem. When your visit is complete, you'll leave with an appointment in the very near future to attend a Doctor's Report to review your findings and be presented with a simple yet detailed care plan to help you reach your health goals.
Report of Findings
When you understand your problem fully you are going to get the best results possible! Your second visit will start with our Doctor's Report where we will explain clearly how the body heals and the role that chiropractic plays in that process. We will also give you valuable information about how to understand the results of your examination, including how to understand your x-rays and other special tests.
You'll receive a package with exercise recommendations specific to your condition, a nerve chart outlining the specific areas that the doctor located subluxation in your spine and a detailed report of your X-ray findings or postural assessment scan. After the report your doctor will review all of these details with you and review his or her recommendations for your adjustment frequency and duration. Your doctor will also answer all of your questions. Remember, there is no such thing as a bad question!
With all of your questions answered your doctor will provide you with your first adjustment and then recommend when you should return.
What is an Adjustment?
What makes chiropractic unique from all other health professions is the adjustment. Chiropractors treat subluxations which are subtle shifts or misalignments in the spine, or areas of the spine that are not moving fully. An adjustment is a low-force thrust directed at a specific region of the spine to restore proper alignment or motion. This force can be applied directly by the chiropractor's hands, it can be applied with the help of a drop-piece on the table, or even a hand-held instrument.
Dr. Tim and Dr. Peter will determine which technique is best for you and make recommendations based on your body type and other factors including your personal preference. The goal of the adjustment is to correct spinal subluxations which interfere with nerve signals travelling back and forth between your brain and your body through the spinal cord and the nerves that exit the spine.
The number of adjustments required to get you feeling better and optimize your spinal and nervous system function will depend on a number of factors including your age (how long the problem has been there), your occupation and other stressors in your life, as well as other lifestyle habits and behaviours such as your current state of physical fitness, eating habits, sleep, hydration and more.
After conducting a thorough physical examination which may include spinal x-rays, Dr. Tim and Dr. Peter will be able to create a customized care plan detailing exactly how many adjustments you will require to get your body functioning and healing at its best!
Financial Responsibility
All of our fees for our services will be explained clearly on the night of your results report. Many insurance plans have benefits that cover chiropractic care and our dedicated team will provide you with detailed statements and receipts so that you can be reimbursed by your insurance provider in a timely manner.
If we anticipate that there are fees that will go above and beyond what is covered by your insurance provider we will disclose these fees after the report and go over our convenient and flexible payment options.
We accept direct debit, cash, cheque as well as Visa and Mastercard for payment.
Start Your Journey Today
Contact us today to speak with a team member for more information, and to start your journey toward less pain and a healthier life.
CONTACT US

New Practice Members at Grace Family Chiropractic | (705) 323-9100