Meet Dr. Tim Silvester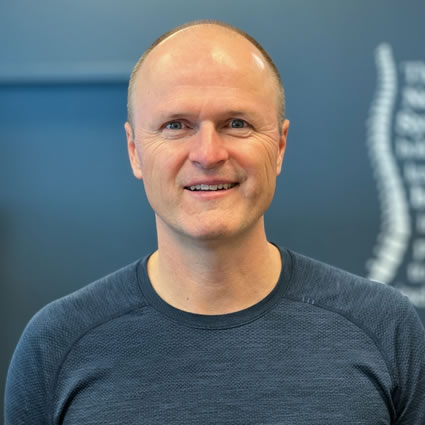 Dr. Tim Silvester was born and raised in Orillia. He attended the University of Western Ontario in London and graduated from the Canadian Memorial Chiropractic College in 1999.
After completing a 5 year associateship with Bell Chiropractic in Orillia, Dr. Tim opened Grace Family Chiropractic in November 2004. Grace Family Chiropractic quickly grew to become one of the busiest offices in the area and has grown to include other practitioners and services since its inception.
EXPLORE OUR SERVICES

Dr. Tim's philosophy toward healthcare has always been simple.
It makes more sense to keep people healthy than to treat them after they are already sick.
Dr. Tim
As such, Dr. Tim speaks regularly on many health and wellness topics to various groups in the Orillia and surrounding area. He has shared his wellness messages with nursing homes, staff at OPP general headquarters, Helping Hands, RnR Patient Transfer, the Orillia Real Estate Board, Garfield Dunlop's Senior's Day, church groups and local banks to name a few.
Dr. Tim is passionate about health and fitness. When he is not practicing he can often be found staying active at the Orillia Recreation Centre. He loves running and has completed the Boston Marathon 3 times and competed in other endurance events. He also loves mountain biking and hiking with his family.
Outside the Office
His biggest passion (and only one ahead of chiropractic) is his beautiful wife Jennifer and his two amazing daughters Madeleine and Eva.
If you are interested in finding out how chiropractic care can be a fundamental part of your health and wellness journey, Dr. Tim can be heard speaking most Wednesday nights at 6:15 pm at Grace Family Chiropractic. Spaces are limited so please call ahead to reserve your seat!
CONTACT US

Dr. Tim Silvester | (705) 323-9100